Today I went to the Monroe College Bookstore book sigining to promote my books and talk to students about self-publishing. It was a big event; the bookstore was crowded with students and alumni eager to learn how to publish their own books. I could feel of energy and enthusiasm from everyone, Monroe students are the best!


I finally got to meet Kimarah Issac, the author of
Determination, Hard Work, and Support Equal Success
. Very nice woman, very hard working, very passionate. She's sold 50 copies of her book in just a few months! I see a big future for her as a writer, she is one amazing businesswoman. Man she knows how to sell a crowd!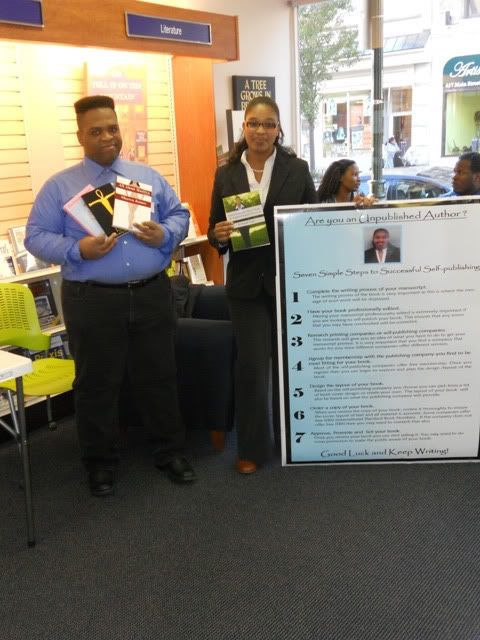 Me and my books Kimarah, her books and her self-publishing tips poster. A great promotional tool!

I had a great time hanging out with the students; I wish the event was a little longer so I could have gone in depth about self publishing There's so much to learn; and I only had a hour. Time flew by!
At the signing we gave books to the first students coming to the bookstore. I signed copies of all three of my titles, (Wish I had time to take pics but a brotha was signing books!) Out of my three titles
Isis
was the hot pick again; strangely with
Cassandra
and
Marilyn
coming in second among the college crowd. I wonder how The Temptation of John Haynes and All About Nikki would have fared if I had them ready for publication.
I'd love to do another signing in the future. Gonna keep working hard behind the scenes to get another signing at another venue. Until then I'm gonna work on my presentation skills. I got tongue tied a couple of times and froze in some spots during the presentation on self-publishing. I'm usually better than that when I'm doing a presentation; I'm sure the more I work on it the better I'll get at it.
Oh yeah, and I'll remember to bring someone with me so I can get MORE PICS!
The next promotional event for me is the Black Friday Auction on Ebay where I offer a set of autographed copies of my books. The highest bidder gets to pick the messages that go in all three books!